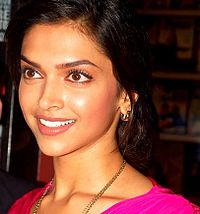 Deepika Padukone is one of Bollywood's fittest actress. Here she shares that it's not about going short on food or fitness tricks but a having an active lifestyle.
She comes from an active family so that?s a plus. From here you could see that having fitness minded parents helps provide an example for children to emulate. Waking up early was her routine.
Her tips include taking Pilates to energise herself and understanding how food reacts to her body type.
Love your body, set realistic goals | Latest News & Updates at Daily News & Analysis

She has the hottest body in the business. Now, Deepika Padukone shares her fitness mantra and the secret to getting a fit and fabulous figure Deepika Padukone has a hot bod. Its not just something you do sometime.

Deepika Padukone has a hot bod. Sure, she has an athletic frame but she has worked hard to achieve a shapely figure. She rarely misses a day at the gym. She is a role model to a lot of teenage girls. Even younger actresses like Alia Bhatt look up to her. Deepika shares her fitness secrets. And warns against starving and gimmicky stuff like six-pack abs.
Via dnaindia.com
Find out more about Deepika:
Deepika Padukone, the daughter of the badminton player Prakash Padukone, was born in Copenhagen and raised in Bangalore. As a teenager she played badminton in national level championships, but left her career in sport to become a fashion model. She soon received offers for film roles, and made her acting debut in 2006 as the titular character of the Kannada film Aishwarya. Padukone then played dual roles in her first Bollywood release?the 2007 blockbuster Om Shanti Om?and won a Filmfare Award for Best Female Debut. Read more…
image credit: dnaindia.com and By Bollywood Hungama [CC BY 3.0 (http://creativecommons.org/licenses/by/3.0)], via Wikimedia Commons