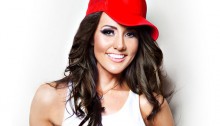 Fitness is a Journey
This is how an average girl underwent transformation in her 20s, and manages to keep fit after becoming a Mom in her 30s.
At some point in her life during her college years, Kelsey Bryers indulged in poor eating habits and a lifestyle typical in such age. However, she noticed gaining much weight from it, prompting her to change things for the better, and so she did!
When asked about how her pregnancy and family life affected her lifestyle, she said that it greatly helps with eating healthily, and having a busy life, she and her husband use meal-replacements bars and shakes. She stated, ?As a mom, there's nothing better than a quick, healthy meal on the go.? Other things she shares in this article are how she views today?s food, how she fits being a good mother into her busy routine and how she feels about herself of her achievements. Her efforts did not only make her lose those pounds, but also led her to becoming a fitness model and online coach.
This article can give you some inspiration to attain optimum fitness and well-being by overcoming external factors that might derail you on your journey to good health and fitness.
Ten years ago, Kelsey Byers was indulging in the poor eating habits and lifestyle of a typical college student: staying up all night partying, drinking too much alcohol, and eating junk at all times of the day. Then one day, she realized she had gained 50 pounds since high school!

She decided to turn things around, and the rest, as they say, is history. She not only lost the weight, she ended up embarking on a career as a fitness model and online coach. Via bodybuilding.com
Image credit bodybuilding.com