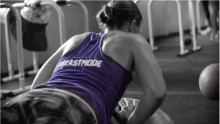 Live Longer - Care Better
This is a story of what Moms go through on daily life, which can at times be challenging when you add exercise and intense workout in the mix. Considering the long days Moms put into taking care of family and/or working, taking care of themselves is sometimes taken for granted. But what if they decide to take care of their children better and look out for their health and wellness?
This is where the real challenge comes in. Because signing up for training or bootcamp is no walk in the park. You wake up early, and getting out of bed is often challenged by voices in your head telling you to go back to sleep, push training back by another hour, or just cancel it altogether. But as a mother who wants to stay fit, you listen to the voice of reason that tells you to get up, no matter. You choose to listen to the voice of responsibility, determination, discipline, of motherhood, and one that tells you that you create your own future.
Live longer,? take care of yourself. Rise and grind!